Keep your family organized and reduce your mental load by creating a DIY command center.
It's no secret that I'm a big believer in the power of a family command center. Every family needs a space that brings together the family schedule, chore lists, school assignments and homework, grocery lists, and more. A command center is the hub of your family's activity, and it can help you all get organized and stay on track.
*This post contains affiliate links, and I am an affiliate with Amazon. This means that if you click through and make a purchase, I receive a small commission (at no cost to you). I only write and endorse products I personally use, love, and find helpful in being an awesome mom. For more details, Click here
A family command center can also help you monitor how much your kids are doing, how often they're doing it, and if they're on track to achieving their goals.
Maybe you are looking to keep your counters clear and clutter-free of papers. Or need visual aids to keep the entire household running smoothly. Regardless of the reason, the best thing is to customize your command center for your family's success.
What is a command center system?
A command center keeps notes, reminders, schedules, calendars, to-do lists, sometimes meal plans/menus all in one place to increase your productivity.
Oftentimes people will include a drop zone for keys, book bags, or even files for the daily incoming paperwork.
It's the center of communication and can be the glue that keeps everyone together during busy weeks.
What should be in a family command center?
I think the best part about a command center is the uniqueness of each one. You can have an entire wall dedicated to calendars and schedules or just a place to keep all incoming and daily things organized.
A command center is essentially a board or a bulletin board with essential information about the family and its activities. The first thing that should be on it is a calendar with all the important dates and events marked.
Since it's such an important calendar, you can write it on a separate, even larger piece of paper. In addition to this calendar, you should also have a designated list of emergency contacts. It's better to have these contacts on a list instead of having them on the calendar because they can be more easily updated. When the family command center is organized and functional, you and your family will be more organized and on the same page than ever before!
Building your DIY command center
Create your command center for quick access is a need in every household, especially with kids. Now, how can you make your own command center using some simple and cheap stuff? My first example is just under 20 dollars. But see all the other refreshing examples below.
Steps to make your DIY command center
Decided what you want you command center to have
Decide where you want you command center to be located
Measure the area where you command center will be
Design your command center
Go shopping for your command center items
Alright, so now that you have an idea of what you want and need for your command center, keep reading below for inspiration from others.
DIY 1THRIVE inspired command Center
Creating my own for under $20 was my goal. I fell in love with the 1thrive product; however, I did not want to pay that much for my command center. They are super cute but not exactly the cost I wanted to pay.
Taking ideas from their long-form command center, I created one with Dollar Tree and Target dollar section products. I am so excited and feel ready to take on the new school year. Read the post for more details on how I did it.
2. Back to school Command center from Drugstorediva
I love how simple and easy this command center is and creates a little shelf for holding pens and other small items.
How adorable is this chicken wire command center? This is perfect for pictures, kids artwork and to-do list, checklist, and inspirational quotes.
Learn how to make it here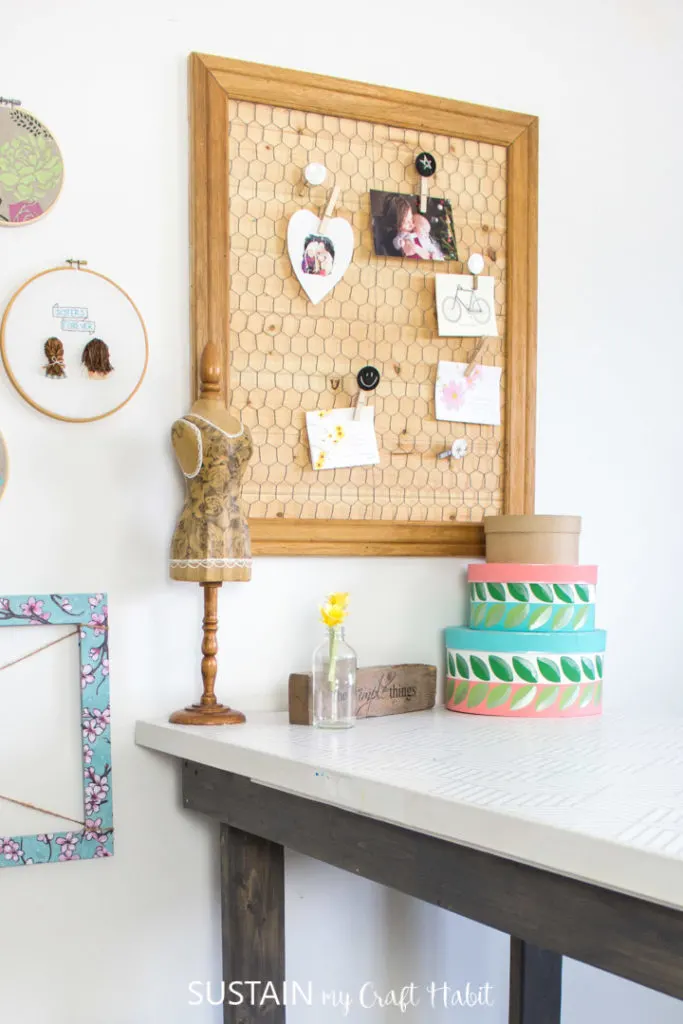 4. Command center ideas for your dog from Theboondocksblog
Fido is a family member like any other. This command center helps you keep dog leashes organized and help foster kids' independence in taking care of the dog. It's a simple yet effective design that keeps dog toys from taking over your home and schedules foryour family pet. Learn how to make it here
This unique command center is made from acrylic and really cool. As a fun idea, you can add lights around to light up the board. Ashley Rademacher, the owner of swift wellness, created this awesome control center using her circuit machine in her office.
6. HALLWAY FAMILY COMMAND CENTER FOR OUT-OF-THE-WAY ORGANIZATION
This command center is entertaining and a total masterpiece. Christine from Where the smiles have been created, this family command center complete with color coordination for each family member and designed a layout that utilizes a hallway to keep things tidy.
7. Simple Family Command Center with basket
Kate from The mom friend created a simple black and white design, but my favorite part of the command center is the catch-all basket. Such a cute idea to put random things you come in with. She also gives some practical tips on focusing on your biggest downfalls to help you better design your command center, helping you stay more organized.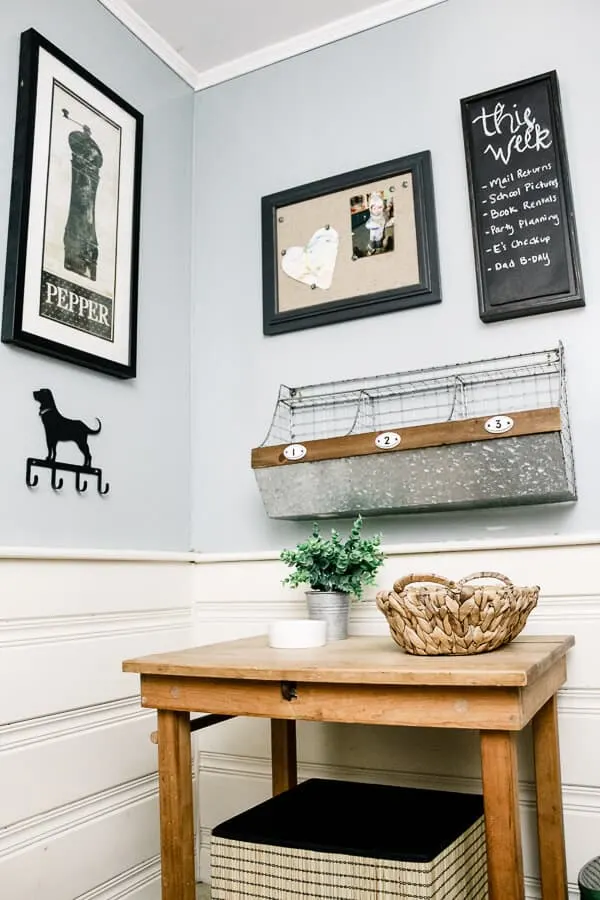 8. Repurposed Wood Shutter Message Board
Linda from Mixed Kreations used an old shutter to turn it into a fun memo board. I personally loved the clothespins used to hold the notes. You could make it extra fun with these colored or glittery clothespins. Perfect for hold kids' artwork, reminders, field trip slips, shopping lists, and more.

9. Easy DIY Refrigerator Command Center For Your Home
On the blog, Angie Holden created a command center on her fridge for a shopping list, to-do list, and to keep all those papers that come in daily organized. She even has some cute DIY bottle cap bug magnets she made herself and shares it on her blog.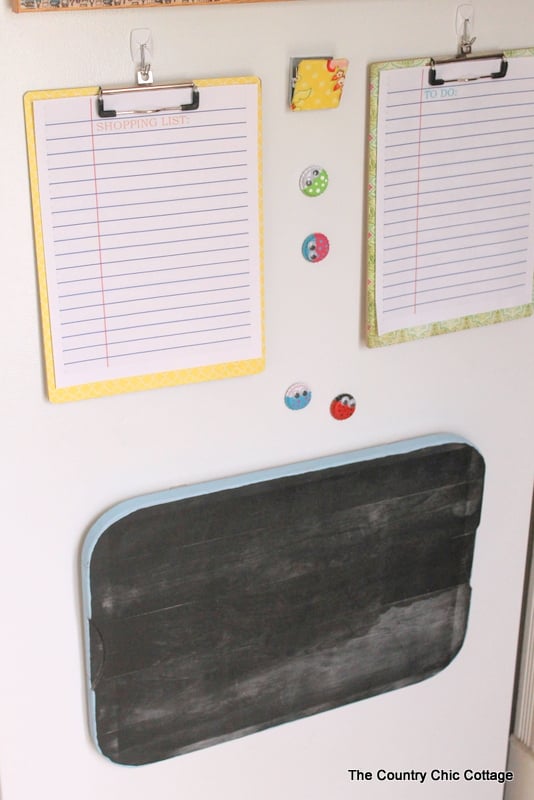 I hope you enjoyed this post and found it inspiring. I am always very excited to share the creativity of other fellow bloggers.
Creating a command center can be a great way to manage your household tasks and projects. It can help your family stay organized and give you a place to plan family activities, events, vacations, and more.
I hope this blog post has helped you find some new strategies to help you stay organized and manage your household tasks. Because I know that family time can be precious, setting up an organized home can help improve the time you have with your family. If you need help with where to start organizing your home. Check this post out. Thank you for reading my blog. If you found this information useful, I would appreciate it if you shared it on social media.